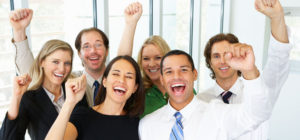 Dante Fulfillment
Getting inventory items shipped, routed properly and delivered on time is job one for Dante Fulfillment. At Dante, we know that our clients' success depends upon our execution of every order from design to production to fulfillment. QC occurs at every level, and no order is more important than another.  Equal importance is given to each client.  This is a huge part of the Dante corporate culture: "Give the client 100%, 100% of the time, because when the client succeeds, we succeed!"
Dante manages order fulfillment and distribution services for all of it's clients as an option. Fulfillment services are just part of Dante's full complement of options when you choose us to handle your supply-chain needs.
Our systems can use order metrics (dimensions, weight, must arrive by information, days in transit etc.) to select the best ship method for each order. Real time tracking information for all shipments is available for our clients in the format of their choosing.  Dante works with all of the main freight and shipping companies, for both inland freight and overseas shipments.
For FTL (full truckload) and LTL (less than truckload) shipping fulfillment, Dante schedules deliveries with a variety of client specified logistics carriers, or we can recommend a qualified, cost effective logistics service on behalf of our clients. Either way, our shipping team works with the carriers to coordinate pick-ups, and get orders out and delivered in compliance with the clients' deadlines. Our warehouses are located strategically in the US and in China as a convenience and cost-efficiency strategy to benefit our clients who are always looking to streamline their costs of operation.
Our years of experience and strong alliances with world-class logistics carriers go a long way toward the success of our many clients over a six decade long run of delivering excellence. Dante's dedication to your success is why companies like yours turn to us to handle supply chain and fulfillment operations.
Dante Handles the Following Services:
FULFILLMENT & DISTRIBUTION
ORDER MANAGEMENT
ORDER SHIPPING
PICK / PACK / SHIP
WHOLESALE PRODUCT FULFILLMENT
DIRECT TO CONSUMER FULFILLMENT
PACKAGING AND COMPLEX ASSEMBLY
MARKETING MATERIALS DISTRIBUTION
INVENTORY MANAGEMENT
RETURNS / REFURBISHMENT
LOGISTICS SERVICES
For more information call:  855-506-0011 or email us at [email protected]